ROLL UP TRAVEL GAMES FROM SONDERGUT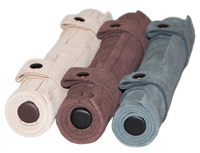 Roll-up Travel Board Games by Sondergut
Sondergut's ingeniously clever roll up board game is manufactured using quality materials & craftsmanship. Our travel board games are the best choice for traveling backgammon, chess, & checkers players around the world. 
Testimonials
My husband and I have played 10+ games of backgammon daily for the last 30 years. This has been the perfect solution for us to take with us while traveling because it's lightweight, compact and doesn't take much space in our suitcases. It's the perfect travel size-- not so small that your fingers have to work to grip the markers like some travel size games. It is a beautifully, well-made product that will last us a lifetime.

Amazon Reviewer "Penda"
This is the Cadillac of travel backgammon sets. The board is made of soft and luxurious suede and the pieces are uniform and sturdy. They perfectly fit in the pouch and roll snuggly into the size of a compact umbrella. A must have for any serious backgammon player.

Amazon Reviewer "GreenPhoenix"
Love love love this travel chess. I wanted something to be small and portable and this is exactly what I needed. Something that looks modern and great and also makes it enjoyable to play. Have taken this around everywhere from planes to picnics. Also love the leather feel.

Amazon Reviewer
Where in the World Will You Play Your Sondergut Board Game?
Here are some photos of the games having fun:
Location
Sondergut products are distributed in the USA by Pitkin Stearns.
925 W. Kenyon Ave, Unit 12
Englewood, CO 80110
Tel (303) 794 - 2323
E-mail:  store@sondergut.com
www.Sondergut.com